3 min read
Why Content Marketing Matters for Solar Companies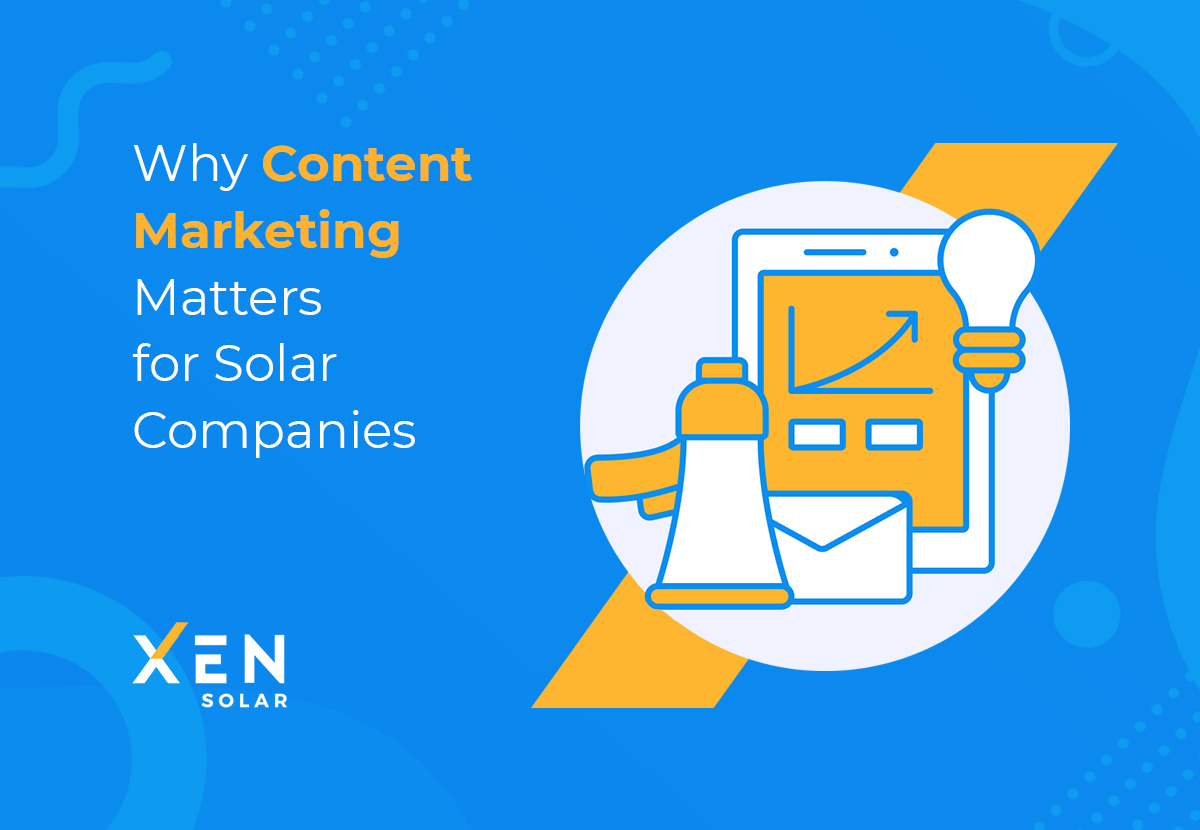 If your research shows that there are plenty of eligible and motivated leads in your service area then having great content on your site will help you convert them into customers.
Most people are aware that solar power is an environmentally friendly source of sustainable power. One of the main motivators in installing solar is the ability to reduce spend on their utility bills.
The sticky point comes when the customer needs to feel confident in their solar power installer. They will prefer to do business with a team that clearly knows what their doing AND can complete the work on time and on budget.
The key to reassuring leads and conveying your business expertise is content marketing. You have many channels to communicate, such as through your website, email database and social platforms. Paid, earned, and owned channels all go hand-in-hand, and a successful business will have a consistent, relevant message across each of them.
Consider that small-to-medium businesses spend $10,000 on average for content marketing annually, according to Learning Hub, which also noted that 62% of marketers report they plan to increase spending during the next fiscal year. How much your solar company might need to spend per year will depend on many factors, from the demographics you're targeting to the size of your staff.
Read on for insight into why content marketing matters for solar companies.
Why Having Quality Content Matters
Publishing good, useful material on your site helps to educate your customers. Leads who are new to solar will browse through your page of frequently asked questions (FAQ) and read blog articles to learn more about the ins and outs of solar power.
Leads with more purchase intent will browse through your products and services page. They will be more interested in brand names, system sizes, and expected returns.
Key messages can then be promoted across socials and email newsletters targeting leads in different pathways along their solar journey.
By using specific keywords that your customers would be searching for, such as "solar power" and (name of their city), and means you can optimise the benefits of SEO (search engine optimisation) and improve the chance to be found and to be seen as solar leaders in your service area.
How to Deliver Quality Content
It pays to be organised and to know the keywords your customers search for. Once you have this you can move on to the implementation stage.
Firstly, create a content calendar. This helps you see at a glance that you're covering all of the topics you know your customers care about. For example, one month you might emphasize rebates on solar equipment, while the next month you focus on solar power efficiency.
Busy solar company owners will benefit by using scheduling tools to keep their social channels active, such as Buffer and HubSpot. Our team can help you understand how to use these tools to better engage with potential customers.
Take Your Solar Content To The Next Level
Focusing on quality content takes time.
Nobody knows your solar business and capabilities better than you and your colleagues. Get the whole team together to brainstorm and suggest ideas about promoting the business.
Identify your most productive and creative team member with strong wordsmith skills to come up with blog articles and updates for your social channels, like Facebook and Twitter.
Or, simply outsource to an agency that specialises in solar to manage your content calendar, budget, and content marketing implementation.
Need Help Creating Content?
If you're the kind of dealer who doesn't have the time or resources to manage a content strategy effectively, it's best to outsource this task to experienced solar marketing professionals.
XEN Solar is here to assist. Our experts will brainstorm and work with you to bring your website and content to the next level.
We invite you to take a tour to learn more about how we can help develop your content strategy. Please contact us today for a 15-minute discovery call to see if we are a good fit for your business.