6 min read
Google Ads - Important Changes November 2021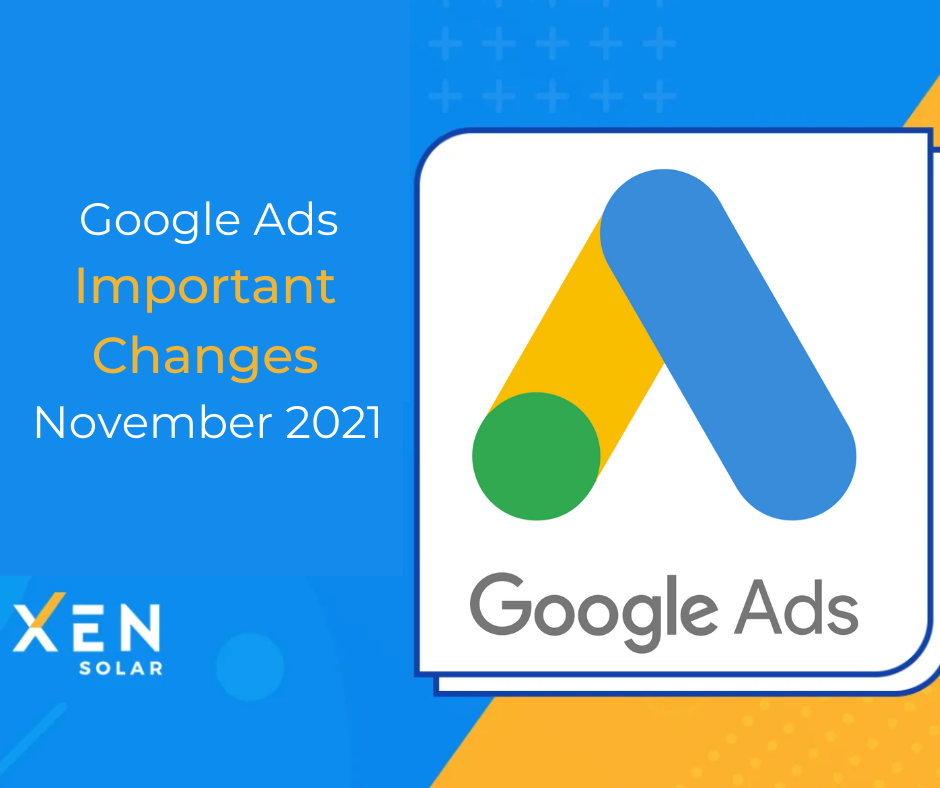 There are more changes and updates to the Google Ads platform that continue to keep everyone on their toes. Are you up to date with how Google Ads has changed and what it means for your business?
Here are three changes you should know about, how it affects your business and what changes you need to make.
Recent Changes To Google Ads That You Should Be Aware Of

1. Responsive Search Ads Replacing Expanded Text Ads
Google has given up plenty of time to prepare for the removal of Extended Text Ads (ETA's) in favour of Responsive Search Ads (RSA's). Since their introduction in 2018, RSA's have had mixed results in our ad experience. Some accounts actually perform better in the ETA ad format. But nevertheless, Google has decided to phase out ETA's in favour of RSA's for the following reasons:
Machine learning allows for improved performance
Better adaptability with changing consumer behaviour
Streamlined account management and optimisation.
Reminder: here's what ETA and RSA Ads looks like
Extended Text Ads

Responsive Search Ads

Timelines
Extended Text Ads will be phased out in June 2022. You can read more about this expected phase out on the Google Ads announcement here.
What happens if you do nothing?
If you do nothing to your existing Expanded Text Ads your existing expanded text ads will continue to run and you'll be able to report on their performance. You will not be able to edit or create new ETA's, but you can pause, resume or remove them.
Do we trust that advice from Google?
Yes, this change will go ahead. Google are constantly rolling out improvements to the platform. Responsive Search Ads have already replaced Expanded Text Ads as the default campaign type in Google Ads.
What we recommend
Prepare for the change now. WordStream have outlined seven things you can do in the meantime:
Test expanded text ads now
Set up new ETAs for future use
Prepare for declining impressions
Start using responsive search ads now
Establish RSA benchmarks
Pin strategically
Understand RSA reporting limitations.
You can find each of these seven steps outlined in their blog post: 7 Things You MUST Do Before Expanded Text Ads Go Away
2. Changes To Keyword Matching Behaviour
In our last Google Ads update, we advised that exact match logic now also applies to broad and phrase match and sadly modified broad match was retired.
Things then progressed which changed the way we structure our keywords. It's no longer best practice to use the same word with multiple match types in order to identify your best performing keyword. Instead, Google is saying to use broad match only, and let machine learning work out intent. Google says this is best because:
You'll get more qualifiers traffic using less keywords
It will reduce account complexity because you'll no longer have to manage multiple match types to control where traffic goes
Your focus can now be on thematically consistent ad groups
If you're pairing broad match with Smart Bidding, there's no longer any benefit to using multiple match types.
Timelines
This change has rolled out already.
How does this impact your business?
Keep a watchful eye on campaigns if you are testing broad match smart bidding campaigns. Broad match has been known to chew into budgets quickly, so you need to diligent when making changes or updates to your existing campaigns.
Do we trust that advice from Google?
There is a lot of discussion about this new development and it's not all favourable. Here are a few comments from seasoned PPC experts who say:
Amy Bishop: "Putting all your eggs in the broad-match-basket could increase CPL."
Julie Bacchini: "Have you not been matching the most relevant keyword to the query up until this point?"
Greg Finn: "This is horrid generic advice."
Suzi Marino: Excessive keywords make things messy. While the shameless plug from Google on broad match and Smart Bidding isn't welcome, I think the lesson on downsizing your keyword list is helpful. At the least, this will have people reevaluating their search intent, and that's at least a step in the right direction."
What we recommend
Start testing broad match Smart Bidding and compare performance against your other campaigns.


3. Data added back into the search terms report
Back in September 2020, Google made the announcement that it will reduce the visibility on reporting all data in the search terms report. For those who have been managing Google Ads for some time, this was not a welcomed move and people mourned the loss of the search terms report that used to show us all the queries our ads showed for.
Fast forward to October 2021, and Google announces that they are going to add data back into the search terms report. In this announcement Improving the search terms report while maintaining user privacy, Google gave us these two gems:
access to more search volume data (in line with their privacy needs)
backdated to February 2021.
Timelines
This is live. Check your search term reports!
How does this impact your business?
You still won't be able to have visibility on low volume queries, but getting more access to higher volume queries means you can get a deeper understanding of how your customers find you on search and what terms are performing.
Do we trust that advice from Google?
Yes, this is a small win for businesses. There was a lot of backlash when the search term report data was restricted and Google have advised that they "explored new, privacy-safe ways to get you the insights that you need to run more effective campaigns".
Two things to be aware of:
Note that the report still only shows us impressions not clicks.
Right now, if you search prior to September 2020, you will find data on low search term results. But in February 2022, this will no longer be visible. All search term data, pre- and post-September 2020, will have the same limitations—showing only search terms with high enough volume to protect privacy.
It's wise to keep in perspective that this is good news and not a major loss in the scheme of things. "Old search terms from a year ago or longer may not be useful information. So all in all, it doesn't seem to be a major loss." Senior product manager at Google, Pallavi Naresh
What we recommend
Dig into the search terms report to gain a better understanding of consumer intent.


What Are The Next Steps For Your Business?
Google Ads Audit

- review your account!

Learn more about what's involved here.
Our specialist team can help you clean up and maintain your existing campaign.



Up-skill your internal staff looking after Google Ads

- check in with them to make sure they are across all of the recent changes. Google also offer a range of free courses, we recommend

Google's Skillshop

for anyone looking to get up to speed on Search, Display, Video and Shopping ads.