HubSpot Setup and Onboarding
Full setup and optimisation of your Solar dealership's HubSpot Sales, Marketing and Service Hubs.
Full Onboarding, Setup and Optimisation of Your New HubSpot Portal
A tailored HubSpot onboarding service to help companies accelerate their marketing strategy, HubSpot implementation and HubSpot activity.
We work with you and your sales & marketing teams to plan, prioritise and setup your HubSpot installation.
We are then on call to guide you with any training and ongoing implementation questions.
You've made a significant investment by choosing HubSpot, make sure you are putting it to optimal use.
Download the HubSpot Ignition brochure
The Success of your HubSpot portal relies on it being setup correctly, and tailored to your solar dealer's sales and marketing processes.
Who is the HubSpot Ignition Service for?
The HubSpot Ignition Setup and onboarding service is ideal for solar companies who are new HubSpot customers.
You've likely just purchased HubSpot and are now looking for help from a Certified HubSpot Partner, experienced in solar marketing and sales.
Benefits of the HubSpot Ignition service
Simply: Peace of mind.
It's a relief to know your HubSpot portal has been setup correctly and tailored for your business.
Sleep better, knowing that's one less thing you need to think about.
Feel confident - knowing you can focus on installing solar.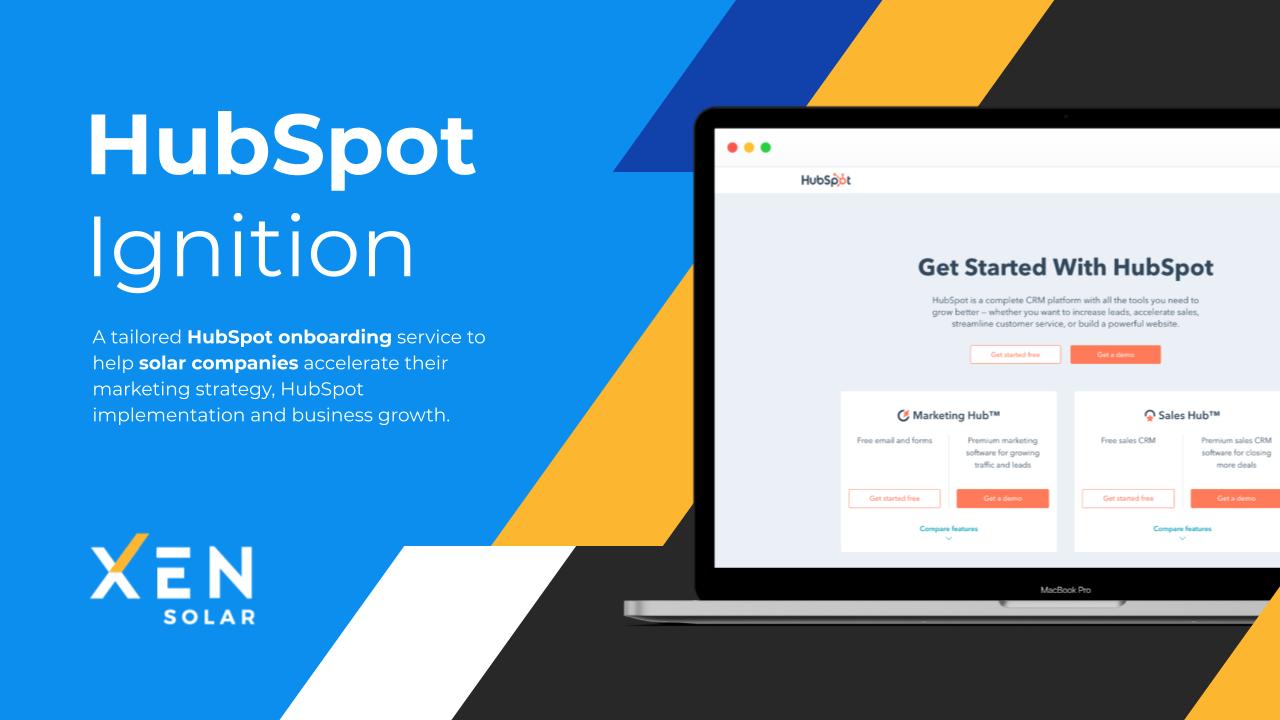 HubSpot Ignition Overview
Typically a 3 month process in total
But prioritised for the first month to get early wins
Includes full setup and implementation of your portal (not just advice/guidance on what you should do)
Includes zoom calls throughout the months to define goals, plan your HubSpot strategy and set priorities
Includes zoom calls to train your teams
We help you setup all the key HubSpot items in your portal including:
Contact settings (views, lists, custom fields)
Content settings (eg domains, email sending settings, colours, types)
Report settings (including IP exclusions)
Setting up your default forms, smart lists and workflows
Preparing default emails and internal notifications
Organising landing page and email templates
Setting up blogs and news listings
Integrating HubSpot with your site (eg if using WordPress)
Adding Google Analytics and Facebook pixels
Connecting ad accounts and paid advertising tracking
Adding default forms to pages (eg Contact Us)
Setting up email nurture sequences
Connecting social accounts and setting up a social posting schedule
Integrating with external tools as required (eg Salesforce)
Setting up Reports and Dashboards
Suggested Schedule
A suggested approach - but tailored for your company's priorities.
Month 1: HubSpot Strategy and Quick Wins
HubSpot Strategy - sales, service and marketing priorities
HubSpot settings, tracking, contact migration
HubSpot integrations
Reports and Dashboards
Month 2: HubSpot Campaigns
Campaign tool and SEO
Landing pages and Popup forms
Email marketing
Workflows and email nurture sequences
Social channels
Ads integration
Month 3: HubSpot Sales
Sales pipelines
Deals
Snippets and Templates
Products and Quotes
Tasks
HubSpot Ignition Outcomes
Fully setup and optimised HubSpot portal
Emails, Pages, Forms, Workflows in place
Campaigns ready
Reporting and Dashboards active
Staff trained and informed
How Much Does It Cost?
There are two options for purchasing the HubSpot Ignition onboarding service:
One-off purchase (starting at $9,500 AUD + GST)
As part of our monthly subscription service including our full suite of digital marketing activities (starting at $3795 AUD + GST per month)
Option 1: One-off Purchase
This is for solar companies who just want to focus on this HubSpot setup (ie don't need help with any of our additional digital marketing services).
You can select from a Basic setup, or an Advanced setup (details below).
Option 2: As part of a Monthly Digital Marketing Subscription
This is ideal for solar companies who want to take advantage of our full suite of digital marketing services, including this full HubSpot Ignition setup.
Full details of our Solar Pro and Elite Monthly Subscriptions are here.
The Pro subscription includes the Basic Setup, whilst our Elite subscription includes the Advanced setup.
You should plan for at least 3 months for the HubSpot setup to be fully implemented.
Setup your HubSpot portal hubs:
Marketing Hub
Sales Hub
Service Hub
Advanced
Advanced
Integrations and Automation
Advanced setup including integrations with other tools.
Everything in Basic plus:
Operations Hub
Integrations with any of the following as required:
SolarPlus
OpenSolar (coming soon)
SolarQuotes
Xero
Plus:
Advanced workflows to integrate these into your HubSpot processes
Want to get started with the HubSpot Ignition service?
Book a discovery call
In the call we'll answer any questions you have, dig into your HubSpot plans to check we're a fit, and chat through how we work with you to grow your solar business.
Click here to schedule in your discovery call