3 min read
How to Increase Your Solar Leads Without Increasing Budgets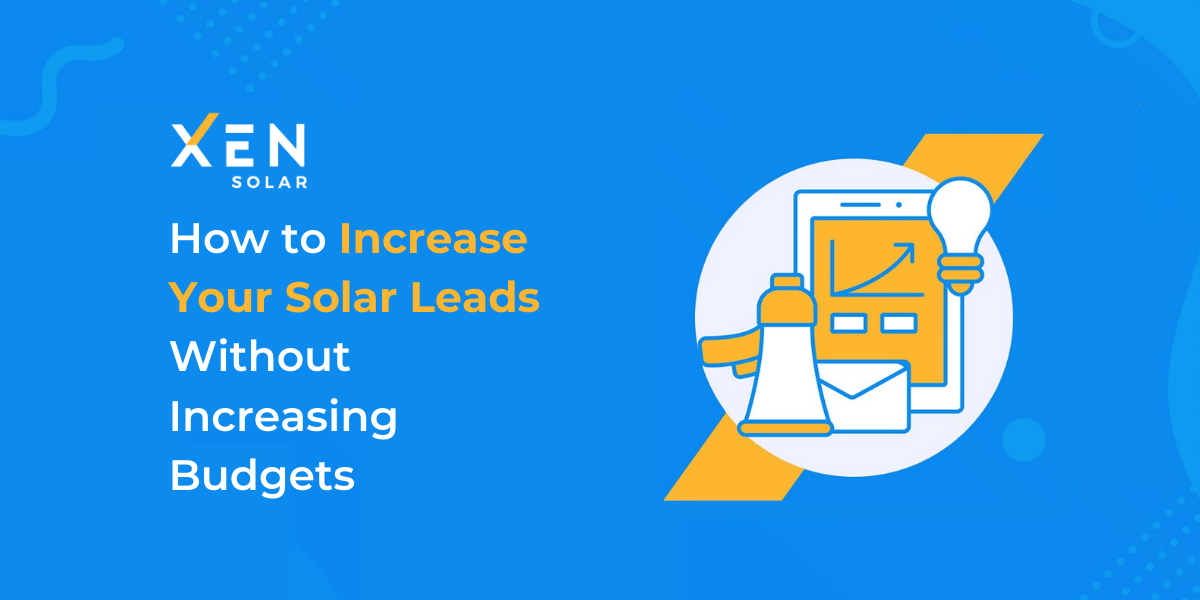 These days, consumer acceptance of solar power is on the rise, and a high percentage of your potential customers are no longer held back by the myths that used to stop solar adoption. Your customers are out there. You just have to get in touch with them and close the deal. So how can you turn all of those potential customers into your customers?
For starters, you'll need to generate more solar leads for your solar business.
Here are a few ideas on where you can start.
1. Optimise your local Solar SEO
Many homeowners begin their solar journey by typing "solar installers near me" or a similar query into Google. If your website has strong local SEO, you'll be the first installer to catch their eye.
Google Search works in three stages:
Crawling: Google searches the web with automated programs called crawlers, looking for pages that are new or updated.
Indexing: Google visits the pages that it has learned about by crawling, and tries to analyse what each page is about. Google analyses the content, images, and video files on the page, trying to understand what the page is about.
Serving search results: When a user searches on Google, Google tries to determine the highest quality results. The "best" results have many factors, including things such as the user's location, language, device (desktop or phone), and previous queries. For example, searching for "bicycle repair shops" would show different answers to a user in Paris than it would to a user in Hong Kong.
Hence, if you create helpful, informative web content, your pages have better chances of climbing up to the first few search results for solar-seeking homeowners.
So what can you do further?
Create an FAQs page on your website to answer common questions in further detail.
Publish blog posts to attract prospects well into the future.
Claim your Google My Business page and optimise it. You may also nurture past customers and ask them to review your business on Google.


2. Build your solar brand and personalise your marketing
With branding, your company can establish itself as a distinguished identity in a crowded marketplace.
Here are a few steps to strengthen your brand-building efforts:
Craft a persuasive company message that sets you apart from other businesses, or makes you more reliable. For building a brand name that people can place their faith in, you need to define what exactly your company is about and what it offers.
Take photos and videos featuring you and your team's faces, and show interviews with your own satisfied customers.
Highlight your best solar products, promotions, and prices.
Promote. If you are not investing in promoting your brand, your target audience will remain limited and so will the results. Effective marketing of your brand, along with quality services and products, can prove highly successful for your business.
Taking these small steps will help online solar leads realise that you and your team are real people, serving real local homeowners just like them.
3. Make your customer's solar journey easy
Going solar can be intimidating to homeowners, so the most successful solar businesses try to make every step along the way as easy as possible.
You may need to adapt to your company's approach to each individual customer by knowing the following:
Your customer's preferred communication channel
Your customer's preferred schedules
Don't overwhelm customers with all the steps to going solar at once. You may provide them with solar guides that they can read instead.
These approaches meet each customer where they're at, making it easy for them to say yes to the next step.
4. Don't be too shy to ask for referrals
When your customer's solar journey is successful, they will be more likely to refer your solar company's services to their friends and family. To encourage referrals, you may send them referral forms through an SMS or email campaign.
What's next?
When you successfully increase your solar leads, it's important to nurture your customers and make them feel that they can contact you any time they need anything or have questions about their purchased solar products.
Even after the buying stage, ensure that every step is easy for them - from finding your business and connecting with you all the way to giving you good reviews and referrals.
Each of these touch points is a fantastic opportunity to develop your authentic personal brand with marketing content. Don't be afraid to explore and test your ideas.